I was hoping to post this yesterday and I didn't get around to it, so I'm posting it now.
Happy Belated Valentine's Day.
My In My Mailbox post is an easy one today. I didn't receive anything for review, and I didn't buy anything this past week. I'm waiting for a few things and am hoping they didn't get lost in the mail. Hmm. Hopefully they'll come in this week. I'll hopefully be able to catch up on my reading... I've got a lot of stuff out from the library, so we'll see. :)
Affiliates

I have gained some affiliates and I'm hoping to make the affiliate posts a weekend thing. I'll most likely coincide it with or around the IMM posts.


First up, I have affiliated with Kari from A Good Addiction.
She has an awesome blog, really good reviews, author guest posts, and she has a meme that focuses on "the little guys". I think she has a contest on right now for the Percy Jackson books, so go enter! (That is if you want the books.) :) She also has a book forum that opens on Sundays, but the books can be talked about/posted throughout the week that they are featured. If you haven't read the books and it's a few weeks later, that is no problem. The topics are still up and you can discuss them still at that point. Kari is awesome, so go check out her blog and forum! :)
The second affiliate that I have gained is Jenn from Book Crazy.
Her blog is awesome. She has a meme called Music Monday, as well as reviews, author guest posts etc. I love her reviews too. She has an international contest running for the book Undead Much? by Stacey Jay. It ends on the 18th, so don't hesitate to enter! Jenn's tons of fun, so go check out her blog! :)
The third (and last) affiliate that I've joined up with is Sherry from Flipping Pages for all Ages.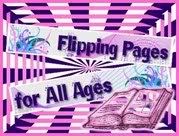 Sherry has really great reviews as well. She has a ton of guest author posts, and she just finished up a pile of contests. Well, even though she had several of them finish up, she still has 3 ongoing contests. You can enter to win Firespell and swag, The Body Finder and swag, and last, but certainly not least, she's got a Harlequin Book giveaway. If you haven't already, go enter! Sherry is awesome too, so go check out her blog! :)
Those are all of my affiliates for right now. I hope to start a weekly wrap up post this coming weekend, so look for my posts regarding these three lovely ladies and their blogs.
Happy Reading everyone! I hope you have a GREAT week. Happy President's Day to those in the U.S. and umm, Happy Family Day to those in Ontario, Canada. (Apparently this holiday doesn't extend to the rest of Canada...)